U2L Partner
Impact the future of Dallas now. United to Learn brings together elementary schools and community partners to accelerate student achievement across Dallas ISD.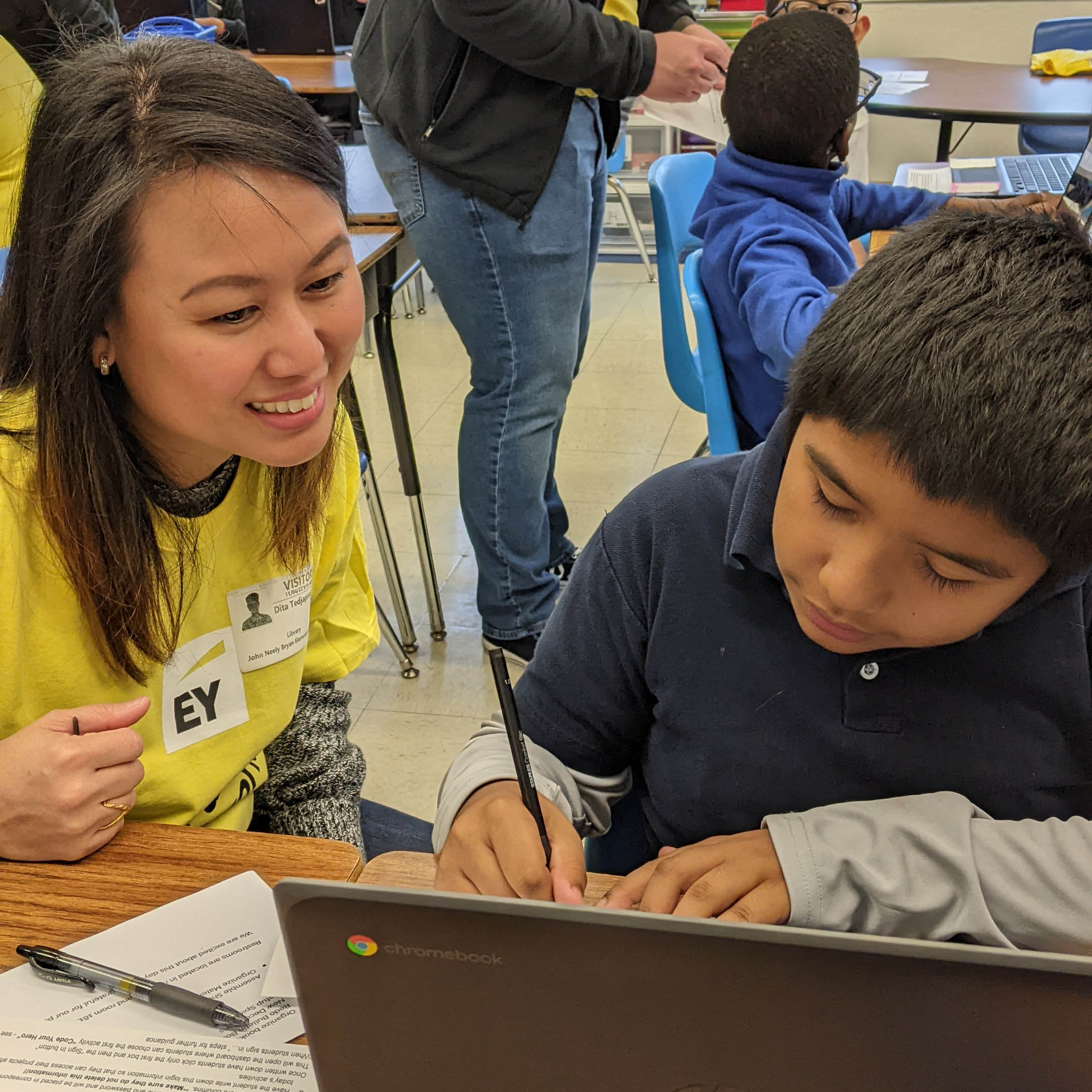 Become

a U2L Partner

What is a U2L Partner? A U2L Partner is a business or community organization that works closely with
a school to provide time, talent and funding to meet campus-specific resource gaps and drive student achievement

Why do we need U2L Partners?
Your investment closes opportunity gaps and advances equity in education because public school budgets do not provide for all the resources students need to succeed.

Who are our 36,326 students?
90% live in poverty
92% identify as students of color
55% are emergent bilingual learners
100% have unlimited potential to thrive

How Partners make a difference:
U2L Partners drive our model, providing investment, resources, and volunteer support to build thriving schools and accelerate student achievement.
Current

U2L Partners
Dallas Pi Beta Phi Alumnae Club
Highland Park United Methodist Church
Saint Michael and All Angels Episcopal
At EY, we know that the students of
Dallas today are our workforce of the
future. Partnering with United to Learn
has enabled our employees to get
engaged, working with students and
donating social responsibility funds.
– James Walton, Partner, Ernst & Young
Partners

make a difference

A U2L Partnership fulfills your goals through engagement opportunities that transform our city! Partnerships provide volunteer opportunities and valuable insights into the local education ecosystem.

U2L helps you:
• Engage employees to meet your social responsibility priorities
• Gain streamlined access to schools
• Forge trusted relationships with school leadership
• Build and grow relationships throughout the community
• Track the impact of your investment through key metrics

Your organization benefits through:
• Recognition highlighting your U2L + Dallas ISD partnership on website, social channels, & exterior signs at your partner school
• Engagement in United to Learn's Learning Launch & Community Campus Day initiatives, including employee volunteer opportunities & logo placement
• Invitations to educational & network events including Network Summits, Partner Workshops, holiday & school-year-end gatherings,
& investor updates
• Opportunities within U2L's governance structure, including
advisory councils and/or representation on campus committees
• Nurturing personal relationships to fuel each child's long-term success!
98%
Rating of our U2L programs by schools in categories of tangible impact, custom support and quality of relationship.
HONOR
ROLL
68% of U2L Schools have reached an A or B-rating throughout our partnership.
17%
Literacy growth in just ONE YEAR, returning U2L Schools to pre-pandemic levels (STARR results).
$1MM
A student who enters 4th grade reading at a college-ready pace, can expect a $1 million increase in incremental lifetime earnings.
CH Investment Partners has a partnership with Burnet elementary because we know that an investment in our students is actually an investment in our future workforce. We are setting up the future of Dallas!
– Diane Tobin, COO, CH Investments
To talk about how we can tailor an engagement plan that meets your team's objectives, contact our Director of Corporate Relations, Chris McSwain, cmcswain@unitedtolearn.org.